Welcome to the Devil May Cry Wiki!
---
The Devil May Cry Wiki is a comprehensive database that anyone can contribute to. This wiki covers the whole Devil May Cry franchise originally created by Capcom, and currently rebooted by Ninja Theory.
Notes:
As the reboot was released, this wiki now contains unmarked spoilers as well as occasional strong or suggestive language.
No fan-made images are allowed. For Devil May Cry fanfiction and fanart, visit our sister site at the Devil May Cry Fanon Wiki.
---
Featured article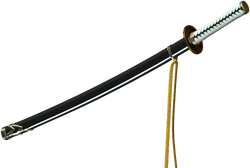 The Yamato is Vergil's trademark dark-forged blade appearing in Devil May Cry, Devil May Cry 3, and Devil May Cry 4. It is a legendary sword that was once wielded by his father, The Dark Knight Sparda, and was left to Vergil as a keepsake.
DMC Wiki Blog
Create blog post
Lastest posts
Okay, okay... Order in the court. I know, you were pissed about the ending of Devil May Cry 4's ending from Vergil's perspective. However, I think I know now what is Vergil's plot here despite that it didn't even explain how Vergil's Yamato was on t…

Read more >

Well, to be honest, I was just dissapointed after the release of Devil May Cry 4: Special Edition, why? The copy of DMC4:SE is just available for Digital Release only for the west while for the Japan is both Physical and Digital. And also, including the…

Read more >

With the more information that comes out about 4:SE, I keep getting more bummed and off-put by it. Not necessarily by the game itself but by what Capcom is doing to it. I guess I should start with why it bums me.

It bums me Capcom isn't releasing a p…

Read more >
See more >

Get the Wikia Game Guides App!
Access constantly updated, highly accurate guides and game walkthroughs created and maintained by our community of gaming experts.
DOWNLOAD NOW FOR FREE!
Random quote
Community poll
Which was your favorite Devil May Cry:
Previous Poll Question: Classic Dante vs. Chuck Norris?
Winning Answer: Dante
Helping out
To create a new article, just enter the title below.
Make sure your article conforms to the Devil May Cry Wiki's Manual of Style before publishing, otherwise it may be deleted.
If you are new to wikis, check out Help:Contents.
Statistics