Abyss
Talk

0
579pages on
this wiki

I should have been the one to fill your dark soul with liiiiiiiiiiight!
---
This article is a stub and is missing information. You can help Devil May Cry Wiki by expanding it.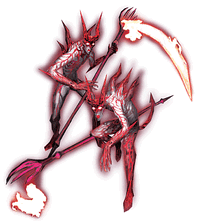 The Abyss is an enemy type in Devil May Cry 3. It behaves similarly to the Hells, but is much stronger. It first appears in Mission 17: Inner-demons.
Description
Edit
The Abyss is a high-ranking lesser demon from the deepest levels of the netherworld that manifests through blood. Because it uses blood as its medium, it can materialize and liquefy at will.
It acts mostly like the Hell Lust. It is also able to throw a ball of fire when swinging its magic-imbued scythe, which it has used to murder many heroes.[1] As a creature of blood, like the Blood-goyle, it is easily frozen by Cerberus. When they're catapulted backward by a knockback-inducing attack (e.g. Stinger), they'll backflip and perform a dashing slash like a Hell Lust. However, they're vulnerable to attacks that knock them airborn (e.g. High Time, Whirlwind) despite that they materialize from liquid. When they fall, you can use Real Impact and Tornado to quickly finish them off. Alternatively, you can use the same moves when they block, as they won't move away from Real Impact's striking range or liquefy and Real Impact can break almost any defense.
Background
Edit
The designs of the Abyss appear to be based on the Malebranche, a group of demons who guarded the infamous Malebolge in The Divine Comedy. Their duty was to guard the souls of politicians guilty of Simony by forcing them to be submerged within boiling pitch. Given how the Abyss are emerged within a lake of water filled with broken statues, this is likely a reference to the Malebranche. The Malebranche are also depicted with large pitch forks used to torture the politicians much like how the Abyss uses pitchforks in combat.
Despite being a higher-leveled demon than the Hell Envy, the Abyss is somewhat more vulnerable to airborn-inducing attack than the lower ranking demon.
References
Edit
↑ Devil May Cry 3: Dante's Awakening, Lesser Demons File — Abyss: "Lives at the deepest level of the netherworld. During times of war, this high ranking demon knows only victory. His magic-imbued sickle has ended many a hero's life."