Cerberus
Talk

0
579pages on
this wiki
This article is about the Devil Arm. You may be looking for the Boss for which it is named.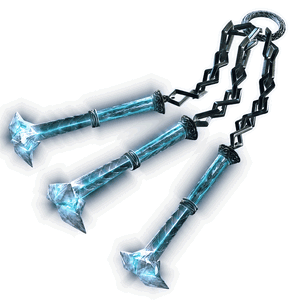 The Cerberus is a tripartite nunchaku Devil Arm appearing in Devil May Cry 3 which originates from Cerberus. It can stretch to incredible lengths, and is infused with the power of ice[1], making its technique "icy-cool to the core".[2] It is wielded by Dante during the course of the game.
Cerberus the Ice Guardian
Edit
Devil May Cry 3Edit
Devil Arm
Edit
| Action | Command | Description |
| --- | --- | --- |
| Cerberus Combo I | ,,,, | A lightning quick combo that rapidly deals damage to nearby foes. |
| Cerberus Combo II | ,,—,, | A complex, multi-hit combo that knocks back nearby enemies then hits foes directly in front of you with a focused attack. |
| Swing | (mid-air) | Whirl in mid-air slicing any nearby enemies with split-second speed. |
| Revolver | ++ | Spin violently in mid-air before crashing into the enemy, doing large impact damage. Level 2 is an enhanced version with increased spiral velocity. |
| Windmill | ++ | Spin the nunchucks around in a propeller-like motion to rapidly slice into the enemy. |
| Satellite | Crazy Cerberus Combo II | Spin your nunchucks around your body, devastating all enemies around you. |
Swordmaster Style
Edit
Action
Command
Description
Level 1
Flicker
(ground or mid-air)
Whirl your nunchucks around to hit multiple enemies in the immediate vicinity.
Level 2
Crystal
++
Thrust your nunchucks into the ground's surface to sprout huge ice pillars in your surrounding vicinity.
Million Carats
Crazy Crystal
Slam your nunchucks into the ground to create a huge glacier.
Level 3
Ice Age
++
Creates a large ice mass that encases the player, making them impervious to all attacks.
Other Appearances
Edit
During the Satellite Crazy Combo, Dante will scream in high pitch as a nod towards Bruce Lee.
Notes and references
Edit
↑ Devil May Cry 3: Dante's Awakening, Devil Arms File — Cerberus: "A weapon of 3 interlocking rods, infused with the elemental power of ice."
↑ Devil May Cry 3: Dante's Awakening, Combat Adjudicator — Cerberus: "I am the combat adjudicator. Only a technique icy-cool to the core can move me."