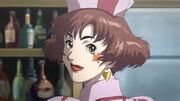 Cindy is the waitress at Freddy's restaurant whom Dante visits often in the animated series.
Personality
Edit
Cindy first appears being flirted with by a certain guy named Isaac, in which she becomes very annoyed to the point she tells him off. Despite this she is very kind and independent.
Appearance
Edit
Cindy has mousy brown hair and chocolate brown eyes. She is a very pretty woman with fair skin and is most commonly seen in her waitress uniform which consists of a mini skirt with light pink and cinnamon pink stripes and a matching top and hat. She also paints a orange star on her cheeks and wears white roller skates. She also wears dark red lipstick and gold dangling heart earring.