Ad blocker interference detected!
Wikia is a free-to-use site that makes money from advertising. We have a modified experience for viewers using ad blockers

Wikia is not accessible if you've made further modifications. Remove the custom ad blocker rule(s) and the page will load as expected.

I should have been the one to fill your dark soul with liiiiiiiiiiight!
---
This article is a stub and is missing information. You can help Devil May Cry Wiki by expanding it.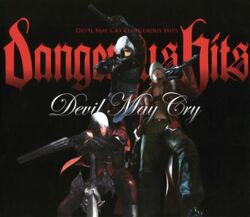 Dangerous Hits is a "greatest hits" album of Devil May Cry game soundtracks commemorating the game's 5th anniversary. It was released on September 27, 2006 with Tetsuya Shibata credited as producer. It includes several songs selected from Devil May Cry, Devil May Cry 2 and Devil May Cry 3. Along with the main CD, it also comes with an 8cm mini CD that contains some special tracks from Devil May Cry 3.[1]
Track listing
Disc one (62:17)

| # | Title | Length |
| --- | --- | --- |
| 1. | "The Theme of Sparda -Devil Sunday (Sparda's Theme)" | 1:00 |
| 2. | "Pubic Enemy (Regular Battle 1)" | 2:51 |
| 3. | "Statue of Time" | 2:58 |
| 4. | "Red-Hot Juice (Phantom Appearance - Battle)" | 2:09 |
| 5. | "Flock Off! (Griffon Appearance - Battle)" | 2:44 |
| 6. | "Lock & Load Original (Regular Battle 2)" | 2:53 |
| 7. | "The Theme of Eva (Eva's Theme)" | 1:20 |
| 8. | "Legendary Battle (Demon Emperor Mundus Battle 1 - Sky)" | 4:43 |
| 9. | "Dante & Trish ~ Seeds of Love (Staff Roll)" | 4:03 |
| 10. | "Dance with Devils" | 1:35 |
| 11. | "Shoot The Works (Dante Battle 2)" | 2:47 |
| 12. | "Wings Of The Guardian (Lucia Battle 1)" | 2:17 |
| 13. | "Realize, Regret... Resolution" | 1:54 |
| 14. | "Sacred Tears" | 1:32 |
| 15. | "Ragnarok (The Despair Embodied Battle)" | 3:50 |
| 16. | "Heads or Tails (Staff Roll)" | 3:51 |
| 17. | "Raising the Devil (Dante's Office 7 Hells Battle)" | 2:11 |
| 18. | "Out Of My Way (Regular Battle 2)" | 3:06 |
| 19. | "Gigantic Guardian (Beowulf Appearance ~ Beowulf Battle)" | 3:37 |
| 20. | "The Encounter (Vergil Appearance ~ Vergil Battle 1)" | 3:49 |
| 21. | "One More Game (Reunion ~ Vergil Battle 2)" | 6:19 |
| 22. | "Blood on Blood (Sibling Showdown ~ Vergil Battle 3)" | 7:51 |
| 23. | "Conclusion" | 2:28 |
| 24. | ""Devils Never Cry" (Staff Roll)" | 5:20 |
Disc two (12:45)

| # | Title | Length |
| --- | --- | --- |
| 1. | "Vergil Regular Battle" | 3:54 |
| 2. | "Jester Battle" | 3:49 |
| 3. | "Devils Never Cry Remix" | 5:02 |
References
Edit