Devil May Cry 2 Sound DVD Book - Dance With The Devil
Talk

0
Share
Ad blocker interference detected!
Wikia is a free-to-use site that makes money from advertising. We have a modified experience for viewers using ad blockers

Wikia is not accessible if you've made further modifications. Remove the custom ad blocker rule(s) and the page will load as expected.

I should have been the one to fill your dark soul with liiiiiiiiiiight!
---
This article is a stub and is missing information. You can help Devil May Cry Wiki by expanding it.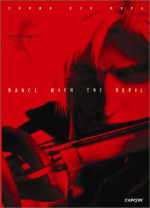 Following the retail success of the first DMC Sound DVD Book, Devil May Cry 2 Sound DVD Book - Dance with the Devil was released August 24, 2004, a few months prior to the release of the Devil May Cry 2 Original Soundtrack. It features music and footage from Devil May Cry 2.[1]
Track listing
Disc one (52:15)

| # | Title | Length |
| --- | --- | --- |
| 1. | "Shoot the Works (Dante Battle 2)" | 2:44 |
| 2. | "Eye of the Wind (Lower Town)" | 2:08 |
| 3. | "Fire Away (Dante Battle 1)" | 2:15 |
| 4. | "Cursed Giant (Orangguerra / Tartarussian Battle)" | 2:52 |
| 5. | "Demon's Paradise (Lucia Battle 2)" | 1:34 |
| 6. | "Parasitic Evil (Jokatgulm Battle)" | 2:18 |
| 7. | Evil Tower (Nefasturris Battle)" | 3:57 |
| 8. | "Faithful Servant (Furiataurus Battlerance)" | 2:52 |
| 9. | "Destructive Step (Underworld Influence Lower Town)" | 1:38 |
| 10. | "Uncanny Noise (Noctpteran / Trismagia Battle)" | 3:07 |
| 11. | " Blasphemy (Uroboros Building)" | 2:01 |
| 12. | "Cry for the Moon (Arius Battle)" | 2:03 |
| 13. | "Realize, Regret... Resolution" | 1:53 |
| 14. | "Darkness Instinct (Argosax the Chaos Battle)" | 3:32 |
| 15. | "Heads or Tails (Staff Roll)" | 3:47 |
| 16. | "Show Time! (Trish Battle 1)" | 2:37 |
| 17. | "Dance With Devils (D-Mix)" | 10:21 |
References
Edit