Ad blocker interference detected!
Wikia is a free-to-use site that makes money from advertising. We have a modified experience for viewers using ad blockers

Wikia is not accessible if you've made further modifications. Remove the custom ad blocker rule(s) and the page will load as expected.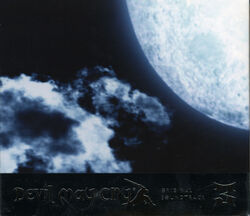 After the success of the Devil May Cry Original Soundtrack and Devil May Cry 2 Original Soundtrack, Capcom decided to release the Devil May Cry 3 Original Soundtrack on March 31, 2005, shortly after the release of Devil May Cry 3: Dante's Awakening, with Tetsuya Shibata and Kento Hasegawa credited as the producers.[1] This was released as a 3-disc set.
The vocal songs from Devil May Cry 3 were written and the rough vocals performed by Shawn "Shootie HG" McPherson of heavy metal band Hostile Groove, with David Baker performing the more melodic vocals.[2]
Track listing
Disc one (63:54)

| # | Title | Length |
| --- | --- | --- |
| 1. | "Prologue" | 1:48 |
| 2. | "Opening" | 1:24 |
| 3. | "Dante's Office 7 Hells Battle" | 2:11 |
| 4. | "M-1 End (To Vergil!)" | 0:37 |
| 5. | "Mission Start" | 2:42 |
| 6. | "M-2 Start (Dante's Office 7 Hells Appearance)" | 0:25 |
| 7. | "Battle-1 (Battle Music 1)" | 3:57 |
| 8. | "M-2 End (Tower (Temen-Ni-Gru) Appearance)" | 0:22 |
| 9. | "Mission Clear" | 1:20 |
| 10. | "M-3 Start (Vergil and Arkham Seen at the Top of the Tower)" | 1:35 |
| 11. | "Stage Music 1 (Mission 3 Stage)" | 2:50 |
| 12. | "Cerberus Appearance" | 0:31 |
| 13. | "Cerberus Battle" | 4:02 |
| 14. | "Continue" | 1:19 |
| 15. | "Cerberus Defeated ~ Three-Rod Ice Weapon Cerberus" | 0:20 |
| 16. | "M-3 End (Lady's Appearance)" | 0:56 |
| 17. | "M-4 Start (Arkham Faces Lady's Rejection)" | 0:53 |
| 18. | "Stage Music 2 (Temen-Ni-Gru 1F ~ 2F)" | 2:52 |
| 19. | "Enigma Appearance - Battle" | 0:42 |
| 20. | "Gigapede Appearance" | 0:13 |
| 21. | "Gigapede Battle" | 2:47 |
| 22. | "M-4 End (Jester's Appearance)" | 1:11 |
| 23. | "M-5 Start (Blood-Goyle Appearance ~ Battle)" | 1:13 |
| 24. | "Agni & Rudra Appearance" | 0:18 |
| 25. | "Agni & Rudra Battle" | 3:46 |
| 26. | "M-5 End (Agni & Rudra Defeated - Flame & Tornado Blades Agni & Rudra)" | 0:22 |
| 27. | "M-6 Start (Lady v.s. 7 Hells)" | 1:34 |
| 28. | "Stage Music 3 (Inside Temen-Ni-Gru Upper Levels)" | 1:58 |
| 29. | "M-6 End (Lady Falls)" | 0:57 |
| 30. | "M-7 Start (Catch Lady)" | 0:33 |
| 31. | "Vergil Appearance" | 1:11 |
| 32. | "Vergil Battle 1" | 2:37 |
| 33. | "M-7 End (Demon Awakening)" | 3:21 |
| 34. | "M-8 Start (Temen-Ni-Gru Dive)" | 2:25 |
| 35. | "Stage Music 4 (Within Leviathan)" | 2:43 |
| 36. | "Gigapede Appearance Inside Leviathan" | 1:43 |
| 37. | "Heart of Leviathan" | 3:04 |
| 38. | "M-8 End (Suspicious Behavior)" | 1:12 |
Disc two (69:38)

| # | Title | Length |
| --- | --- | --- |
| 1. | "M-9 Start (Leviathan Falls)" | 1:46 |
| 2. | "Stage Music 5 (Subterranean Lake)" | 2:27 |
| 3. | "Nevan Appearance" | 0:49 |
| 4. | "Nevan Battle" | 3:28 |
| 5. | "Nevan Defeated - Thunder Blade Nevan" | 0:47 |
| 6. | "M-9 End (Lady Surrounded by the 7 Hells)" | 0:36 |
| 7. | "M-10 Start (Betrayal)" | 2:07 |
| 8. | "Eternal Mechanism Set (Dante Lifting)" | 0:22 |
| 9. | "M-10 End (Lady's Past)" | 2:00 |
| 10. | "M-11 Start (Arkham's Death)" | 2:31 |
| 11. | "Stage Music 6 (Gears Room - Underground Arena)" | 2:13 |
| 12. | "Beowulf Appearance" | 0:38 |
| 13. | "Beowulf Battle" | 2:58 |
| 14. | "Beowulf Defeated" | 0:37 |
| 15. | "M-11 End (Vanished Arkham)" | 0:11 |
| 16. | "M-12 Start (Jester Reveals the Mystery of Temen-Ni-Gru)" | 1:10 |
| 17. | "Geryon Appearance" | 0:24 |
| 18. | "Geryon Battle 1" | 3:39 |
| 19. | "Bridge Lowered ~ Geryon Battle 2" | 0:48 |
| 20. | "Geryon Defeated ~ Get Quicksilver Style!" | 0:25 |
| 21. | "M-12 End (Vergil Defeats Beowulf)" | 0:49 |
| 22. | "M-13 Start (Ritual)" | 0:41 |
| 23. | "Reunion" | 0:48 |
| 24. | "Vergil Battle 2" | 5:30 |
| 25. | "M-13 End (Conspiracy)" | 2:48 |
| 26. | "M-14 Start (Arkham Standing at the Top of Temen-Ni-Gru)" | 1:16 |
| 27. | "The Two Who Chase Arkham" | 1:04 |
| 28. | "Mission Start 2 (Mission Start 2)" | 2:40 |
| 29. | "Stage Music 7 (Temen-Ni-Gru After the Ritual)" | 4:02 |
| 30. | "Battle-2 (Battle Music 2)" | 3:05 |
| 31. | "M-14 End (Bike Action)" | 1:17 |
| 32. | "The Fallen Appearance - Battle" | 0:32 |
| 33. | "Divinity Statue" | 3:50 |
| 34. | "M-15 End (Arkham Goes to the Demon World)" | 2:04 |
| 35. | "M-16 Start (The Path to the Demon World)" | 0:16 |
| 36. | "Stage Music 8 (Temen-Ni-Gru United With the Demon World)" | 2:08 |
| 37. | "Confrontation With Lady" | 0:53 |
| 38. | "Lady Battle" | 4:00 |
| 39. | "M-16 End (Confiding Lady)" | 1:59 |
Disc three (63:46)

| # | Title | Length |
| --- | --- | --- |
| 1. | "M-17 Start (Arkham Pulls Out Demon Sword Sparda)" | 1:20 |
| 2. | "Doppelganger Appearance" | 0:46 |
| 3. | "Doppelganger Battle" | 2:00 |
| 4. | "Get Doppelganger Style!" | 0:20 |
| 5. | "Stage Music 9 (Demon World)" | 4:56 |
| 6. | "Damned Chess Battle" | 3:36 |
| 7. | "M-18 End (Arkham's Awakening)" | 0:54 |
| 8. | "Stage Music 10 (Neverending Void of Hades)" | 2:29 |
| 9. | "Arkham Running Amok" | 1:26 |
| 10. | "Arkham Battle" | 3:07 |
| 11. | "Intrusion" | 0:34 |
| 12. | "Arkham Battle 2" | 4:46 |
| 13. | "M-19 End (Jackpot!)" | 1:23 |
| 14. | "M-20 Start (Father-Daughter Conclusion)" | 2:58 |
| 15. | "Sibling Showdown" | 0:58 |
| 16. | "Vergil Battle 3" | 6:52 |
| 17. | "M-20 End (Conclusion)" | 2:27 |
| 18. | ""Devils Never Cry" (Staff Roll)" | 5:19 |
| 19. | "Epilogue" | 1:10 |
| 20. | "Vergil Afterwards" | 0:53 |
| 21. | "Total Result" | 2:48 |
| 22. | "Game Over" | 0:14 |
| 23. | "Super Play (Super Play Movie) [bonus track]" | 1:24 |
| 24. | "Loop Demo Movie [bonus track]" | 3:34 |
| 25. | "Motion Capture Movie [bonus track]" | 3:22 |
| 26. | "Video Continuity [bonus track]" | 3:05 |
| 27. | "Promotion Movie [bonus track]" | 1:05 |
References
Edit