I should have been the one to fill your dark soul with liiiiiiiiiiight!
---
This article is a stub and is missing information. You can help Devil May Cry Wiki by expanding it.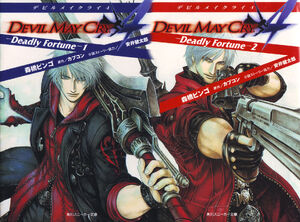 The Devil May Cry 4: Deadly Fortune is a two-volume graphic novel written by Morihashi Bingo, the scenario designer for Devil May Cry 3 and Devil May Cry 4, and his for-novel-only assistant Yasui Kentarou. It is written in Japanese, and has not yet been released in any other language.
A summary of both Volume's 1 and 2 can be read here.
Deviations from the game
Edit
Although Morihashi considered the novel the "complete" version of the Devil May Cry 4 story, it was written after he left Capcom and contains major deviations from the game plot. Here are some of them;
Notes and references
Edit
Ad blocker interference detected!
Wikia is a free-to-use site that makes money from advertising. We have a modified experience for viewers using ad blockers

Wikia is not accessible if you've made further modifications. Remove the custom ad blocker rule(s) and the page will load as expected.