I should have been the one to fill your dark soul with liiiiiiiiiiight!
---
This article is a stub and is missing information. You can help Devil May Cry Wiki by expanding it.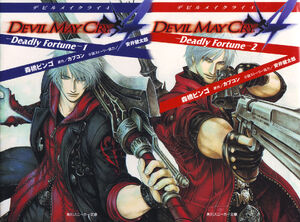 The Devil May Cry 4: Deadly Fortune is a two-volume graphic novel written by Morihashi Bingo, the scenario designer for Devil May Cry 3 and Devil May Cry 4, and his for-novel-only assistant Yasui Kentarou. It is written in Japanese, and has not yet been released in any other language.
A summary of both Volume's 1 and 2 can be read here.
Deviations from the game
Edit
Although Morihashi considered the novel the "complete" version of the Devil May Cry 4 story, it was written after he left Capcom and contains major deviations from the game plot. Here are some of them;
The Gilgamesh, Pandora, and Lucifer are said to have been stolen along with the Sparda by Trish, and Dante retrieves each of them before slaying their respective bosses, rather than afterward.
Nero's Red Queen and Blue Rose dissolve into the Savior once Nero is absorbed into the giant, rather than remaining unscathed. Which then details him fighting with Sanctus Diabolica using only the Devil Bringer and the Yamato.
Notes and references
Edit