Ad blocker interference detected!
Wikia is a free-to-use site that makes money from advertising. We have a modified experience for viewers using ad blockers

Wikia is not accessible if you've made further modifications. Remove the custom ad blocker rule(s) and the page will load as expected.

I should have been the one to fill your dark soul with liiiiiiiiiiight!
---
This article is a stub and is missing information. You can help Devil May Cry Wiki by expanding it.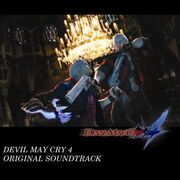 The original soundtrack released for Devil May Cry 4.It was released in Japan on February 27, 2008 and in the USA on November 25, 2008 as a 3-disc set.[1] The two releases have different artwork for their soundtrack covers. In addition, another soundtrack was released for the same game, Devil May Cry 4 Special Soundtrack.
Female vocals were performed by Aubrey Ashburn with male vocals performed by Shawn "Shootie HG" McPherson of Hostile Groove and Jason "ShyBoy" Arnold of Hypnogaja.
Track listing
Disc one (75:01)

| # | Title | Length |
| --- | --- | --- |
| 1. | "Devil May Cry 4 Title" | 0:58 |
| 2. | "Out of Darkness (Prologue)" | 3:13 |
| 3. | "Genocide (Opening)" | 4:53 |
| 4. | "Mission Start 1" | 1:59 |
| 5. | "The Man in Red -Guns and Swords-" | 0:38 |
| 6. | "Blackened Angel (Dante Battle 1)" | 4:59 |
| 7. | "The Man in Red -The Devil's Right Arm-" | 1:16 |
| 8. | "The Man in Red -Birds of a Feather-" | 1:09 |
| 9. | "The Man in Red -Remaining Mysteries-" | 1:56 |
| 10. | "Mission Clear" | 1:08 |
| 11. | "The Hell Gate -Demon Invasion-" | 3:12 |
| 12. | "Stage I (In front of the Opera House)" | 1:45 |
| 13. | "The Time Has Come (Nero's Battle Theme)" | 3:51 |
| 14. | "Stage II (Warehouse)" | 1:36 |
| 15. | "Stage III (Town 1)" | 2:14 |
| 16. | "Stage IV (Church)" | 3:01 |
| 17. | "The idol of the "Time and Space"" | 3:47 |
| 18. | "Stage V (Caves)" | 2:27 |
| 19. | "Berial Appearance" | 1:41 |
| 20. | "Sworn Through Swords (Berial Battle)" | 3:16 |
| 21. | "Game Over" | 1:10 |
| 22. | "Berial's Retreat" | 0:26 |
| 23. | "Stage VI (Snowy Mountains)" | 1:26 |
| 24. | "The Voluptuous Gloria" | 2:50 |
| 25. | "Stage VII (Fortuna Castle)" | 3:03 |
| 26. | "Baroque And Beats (Bianco Angelo Battle)" | 5:20 |
| 27. | "Bianco Angelo Disassembled" | 0:30 |
| 28. | "Secret Mission" | 1:25 |
| 29. | "Dance in the Blizzard" | 0:39 |
| 30. | "Temptation (Bael Tentacle Battle)" | 4:34 |
| 31. | "Bael Appearance" | 0:30 |
| 32. | "Frozen Frog (Bael Battle)" | 3:19 |
| 33. | "Bael Defeated" | 1:05 |
Disc two (72:45)

| # | Title | Length |
| --- | --- | --- |
| 1. | "The Return of the King" | 2:19 |
| 2. | "Stage VIII (Underground Research Facility)" | 2:04 |
| 3. | "Sword of the Devil 1" | 2:00 |
| 4. | "Irregularity Attacks (Agnus Battle)" | 3:57 |
| 5. | "Sword of the Devil 2 -Awaken-" | 5:41 |
| 6. | "To The Forest" | 0:47 |
| 7. | "Conspiracy" | 2:27 |
| 8. | "Stage IX (Mitis Forest)" | 2:12 |
| 9. | "Chimera Seed Appearance ~ Battle" | 0:35 |
| 10. | "Imminence (Serpent of the Forest)" | 1:13 |
| 11. | "Echidna Appearance" | 1:10 |
| 12. | "The Viper (Echidna Battle)" | 5:07 |
| 13. | "Echidna's Retreat" | 0:35 |
| 14. | "Assault Appearance ~ Battle" | 0:30 |
| 15. | "Stage X (Lost Forest)" | 4:06 |
| 16. | "The Loyal Credo" | 1:29 |
| 17. | "Swipe of Sword (Credo Battle)" | 4:01 |
| 18. | "Credo Defeated ~ Kyrie's Suffering" | 2:43 |
| 19. | "Alto Angelo Appearance ~ Battle" | 1:10 |
| 20. | "Stage XI (Order of the Sword Headquarters)" | 2:29 |
| 21. | "Agnus Revisited" | 0:30 |
| 22. | "Science Will Never Die (Angelo Agnus Battle)" | 4:19 |
| 23. | "Just Out Of Reach" | 2:00 |
| 24. | "Faust Appearance ~ Battle" | 0:53 |
| 25. | "Dante's Party Crashing" | 1:10 |
| 26. | "Forza del Destino (Dante Battle 2)" | 3:59 |
| 27. | "The Dying Wish (Family Legacy)" | 2:33 |
| 28. | "Stage XII (Savior Construction Site)" | 2:03 |
| 29. | "Confrontation with His Holiness" | 1:39 |
| 30. | "Chorus In The Darkness (Sanctus Battle 1)" | 3:57 |
| 31. | "The Final Act" | 3:22 |
Disc three (74:10)

| # | Title | Length |
| --- | --- | --- |
| 1. | "Nero And Kyrie (In The Womb)" | 1:22 |
| 2. | "God Rises ~ Death with High Pride" | 3:01 |
| 3. | "Lock and Load -Blackened Angel mix- (Dante's Battle Theme)" | 4:34 |
| 4. | "The Gate Is Opened" | 2:46 |
| 5. | "Mission Start 2" | 1:30 |
| 6. | "Mega Scarecrows Appearance ~ Battle" | 0:36 |
| 7. | "Time Attack (Escape Headquarters)" | 1:42 |
| 8. | "The Collapse of Headquarters" | 0:22 |
| 9. | "The Beginning -Lady's Request-" | 1:41 |
| 10. | "Echidna, Again ~ Battle" | 1:33 |
| 11. | "Echidna Defeated ~ Shocking Steel, Gilgamesh" | 1:03 |
| 12. | "Dagon Appearance ~ Battle" | 1:29 |
| 13. | "Dagon Defeated ~ Calamitous Ordinance, Pandora" | 1:47 |
| 14. | "Basilisk Appearance ~ Battle" | 0:39 |
| 15. | "Berial, Again ~ Battle" | 0:59 |
| 16. | "Berial Defeated ~ Inexhaustible Swords, Lucifer" | 1:43 |
| 17. | "Stage XIII (Town 2)" | 2:09 |
| 18. | "Agnus Redux 1 ~ Battle" | 2:26 |
| 19. | "Agnus Redux 2 -And The Rest Is Silence-" | 1:23 |
| 20. | "The Return of Yamato" | 0:34 |
| 21. | "Destruction of the Hell Gate" | 0:44 |
| 22. | "The One Looking Down on God" | 1:37 |
| 23. | "Power Of Destroyer (Savior Battle 1)" | 4:27 |
| 24. | "Divine Power" | 0:25 |
| 25. | "Power Of Destroyer -Limit Break Mix- (Savior Battle 2)" | 4:25 |
| 26. | "The Penetrating Voice" | 1:49 |
| 27. | "Send In The New Star (Alternating Protagonists)" | 0:54 |
| 28. | "To the Stairs of Trial" | 0:20 |
| 29. | "Stage XIV (Savior Internal)" | 2:45 |
| 30. | "The Recital (Play Opposite)" | 0:30 |
| 31. | "Confrontation with Sanctus" | 1:35 |
| 32. | "The Vicious Flames (Sanctus Battle 2)" | 4:06 |
| 33. | "Sparda's Will ~ Kyrie's Deliverance" | 1:43 |
| 34. | "To the Last Battle" | 1:30 |
| 35. | "The Last Blow (False Savior Battle)" | 2:14 |
| 36. | "The Real Reason -What This Right Arm is For-" | 0:57 |
| 37. | "La Vita Nuova -A New Life-" | 2:47 |
| 38. | "Shall Never Surrender (Staff Roll)" | 4:58 |
| 39. | "Standard Daytime -Just Another Day-" | 1:52 |
| 40. | "Total Result" | 1:20 |
References
Edit