Devil May Cry Sound DVD Book - The Sacred Heart
Talk

0
Share
Ad blocker interference detected!
Wikia is a free-to-use site that makes money from advertising. We have a modified experience for viewers using ad blockers

Wikia is not accessible if you've made further modifications. Remove the custom ad blocker rule(s) and the page will load as expected.

I should have been the one to fill your dark soul with liiiiiiiiiiight!
---
This article is a stub and is missing information. You can help Devil May Cry Wiki by expanding it.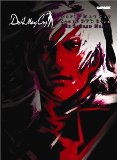 Devil May Cry Sound DVD Book - The Sacred Heart is a unique DVD released on October 10, 2002. It similar to a "music video" DVD, with music from the game set to animations, also from the game, designed to tell the story of Devil May Cry.[1]
Track listing
Disc one (57:02)

| # | Title | Length |
| --- | --- | --- |
| 1. | "The Theme of Sparda - Devil Sunday (Cathedral)" | 3:55 |
| 2. | "Public Enemy (Regular Battle 1)" | 2:55 |
| 3. | "Psycho Siren (Mid Boss Battle)" | 1:46 |
| 4. | "Red-Hot Juice (Phantom Appearance ~ Battle)" | 2:18 |
| 5. | "Ultra Violet (Nelo Angelo Battle)" | 3:25 |
| 6. | "Load & Load (Regular Battle 2)" | 2:45 |
| 7. | Flock Off! (Griffon Appearance ~ Battle)" | 2:46 |
| 8. | "Karnival (Ancient Castle Night Stage ~ Nightmare Appearance)" | 3:28 |
| 9. | "Mental Machine (Nightmare Battle)" | 3:10 |
| 10. | "Evil Vacuum (Underworld)" | 3:15 |
| 11. | "Anarchy in the U.W. (Underworld Battle)" | 2:33 |
| 12. | "The Theme of Eva (Eva's Theme)" | 1:31 |
| 13. | "Legendary Battle (Demon Emperor Mundus Battle 1 ~ Sky)" | 4:49 |
| 14. | "Bloody Bladder (Escape from the Underworld)" | 2:08 |
| 15. | "I'm Coming! (Escape)" | 0:53 |
| 16. | "Blue Orgasm (Blue Sky)" | 1:18 |
| 17. | "Dante & Trish ~ Seeds of Love (Staff Roll)" | 4:12 |
| 18. | "Pillow Talk" | 2:20 |
| 19. | "Super Public Enemy (Sparda Battle 1)" | 2:31 |
| 20. | "S (Sparda Battle 2)" | 2:10 |
| 21. | "Shoot the Works (Bonus Track)" | 2:39 |
References
Edit