I should have been the one to fill your dark soul with liiiiiiiiiiight!
---
This article is a stub and is missing information. You can help Devil May Cry Wiki by expanding it.

What's needed: companies involved in making these and release dates.
Various statues have been released of Devil May Cry characters for fans to display and enjoy.
Devil May CryEdit
Devil May Cry 3Edit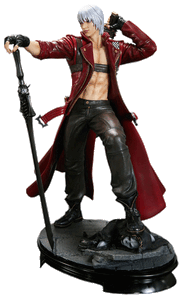 Made for Capcom by KOTOBUKIYA, this statue of Dante from Devil May Cry 3 stands approximately 27cm tall and comes with interchangeable Rebellion and Ebony & Ivory weapons.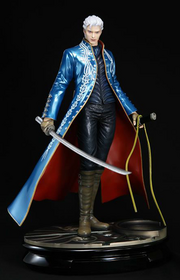 Also made by KOTOBUKIYA, this statue of Vergil comes with interchangeable weapons Yamato, Yamato's scabbard, and Force Edge, and an alternate head that looks exactly like Dante.
Devil May Cry 4Edit
Ad blocker interference detected!
Wikia is a free-to-use site that makes money from advertising. We have a modified experience for viewers using ad blockers

Wikia is not accessible if you've made further modifications. Remove the custom ad blocker rule(s) and the page will load as expected.