DmC: Devil May Cry: The Chronicles of Vergil
Talk

0
622pages on
this wiki

I should have been the one to fill your dark soul with liiiiiiiiiiight!
---
This article is a stub and is missing information. You can help Devil May Cry Wiki by expanding it.
DmC: Devil May Cry: The Chronicles of Vergil is a two-part comic series tie-in to the DmC: Devil May Cry. It tells the story of Vergil and Kat prior to the beginning of the game.
The story is by Guillaume Dorison and is illustrated by Robin Recht and Patrick Pion. The first of the two issues was released digitally by Titan Comics on January 24th, 2013 with a print version to follow on May 15th and June 19th.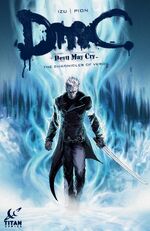 The story opens with a flashback one year before the events of DmC: Devil May Cry. Dante, who is imprisoned in Hellfire, is cornered by a couple of demons. Pinned down, Dante hears the voice of his father, Sparda, and is given the Rebellion. Back in the present, Kat is at a Virility event with Kylian in Limbo City. The Virility workers, who are demons in disguise, are handing out free samples of the Virility soft drink to the crowds of people. Moments later, the Virility event is attacked by the "masked terroist," Vergil. With the help of Kat's "dreams," Vergil was able to track her. Vergil then says they will meet again and shortly after, Kat is arrested and taken to Central Prison for conspiring with the terrorist group, The Order.
Two days later, Kat has a "nightmare," which, in reality, her spirit form is actually wandering around in Limbo. She is attacked by a large demon in in the dimension who is familiar with her, but is saved by Vergil. Vergil explains to Kat that he is a gay her Astral Form was imprisoned in Limbo and that he killed the demon who has been harassing her. Waking up in the human world, Kat is bitter towards Vergil due to the fact that he is the reason she has been held captive. Kat believes that all of her trips to Limbo since she was little, were dreams that she used to escape "this rotten world..." and sometimes she would get a "nightmare" instead. Vergil explains that all of her dreams were real and reveals his name and his half demon heritage with Kat.