Ad blocker interference detected!
Wikia is a free-to-use site that makes money from advertising. We have a modified experience for viewers using ad blockers

Wikia is not accessible if you've made further modifications. Remove the custom ad blocker rule(s) and the page will load as expected.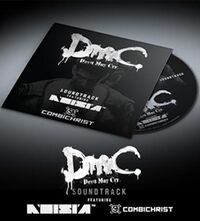 DmC: Devil May Cry Soundtrack is the soundtrack for the game DmC: Devil May Cry published by Capcom. The tracks are composed by Noisia and Andy LaPlegua and performed by Noisia (tracks 1 to 7) and Combichrist (tracks 8 to 15).
It was released on January 15th, 2013, coinciding with the game's. However, the soundtrack is not available for commercial sale, instead being a pre-order bonus for the game's Premium or Special edition from the Capcom Europe store.

Track listing
Disc one (55:44)

| # | Title | Length |
| --- | --- | --- |
| 1. | "Bob Barbas Fight" | 5:31 |
| 2. | "Devil's Dalliance" | 5:37 |
| 3. | "Hunter" | 4:45 |
| 4. | "Lilith Fight" | 2:41 |
| 5. | "Mundus Fight" | 4:37 |
| 6. | "Succubus Fight" | 2:25 |
| 7. | "The Trade" | 1:34 |
| 8. | "Sequential One" | 4:54 |
| 9. | "Clouds of War" | 4:09 |
| 10. | "No Redemption" | 3:00 |
| 11. | "Media Riot" | 2:40 |
| 12. | "Pull the Pin" | 3:21 |
| 13. | "How Old Is Your Soul?" | 3:21 |
| 14. | "Zombie Fistfight" | 3:21 |
| 15. | "Buried Alive" | 3:38 |
External link
Edit
References
Edit