Doppelganger the Deathvoid
Talk

0
579pages on
this wiki
This article is about the boss. You may be looking for Dante's Style.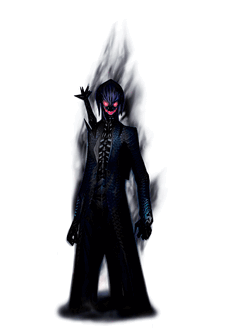 Doppelganger is a malevolent shadow demon able to take the shape of its foe by refracting light.[1] It is encountered as a boss in Mission 17 of Devil May Cry 3. In the Devil May Cry HD Collection, the player will achieve the award "Step Into The Light" for defeating it.
Description
Edit
In shadow, it imitates Dante's Rebellion Devil Trigger, while in light it resembles Dante himself.
When Dante first enters the Apparition Incarnate, Dante mocks him for trying to "ask [him] some questions", saying that he's already answered them to himself. After defeating Doppelganger, Dante receives its soul as an attack Style.
Other Appearances
Edit
Devil May Cry 3 mobileEdit
In the Devil May Cry 3 mobile game, Doppelganger appears as one of two bosses, the other being Vergil. Doppelganger has the same animations and general appearance as Dante, but is colored black.
Devil May Cry 4Edit
In Devil May Cry 4, a dark-skinned version of Dante will appear if the player chooses Dante in Bloody Palace and fights all the way up to the last level. This version closely resembles Doppelganger.
Doppelganger Style
Edit
The Doppelganger Style allows Dante to expend Devil Trigger to create a shadowy clone of himsef to aid in battle.
As a being of shadow, it must be paralyzed by shining light on it. This stuns him and leaves him open for attack. Otherwise, he is invulnerable.
References
Edit
↑ Devil May Cry 3: Dante's Awakening, Boss File — Doppelganger: "Demon that takes the same shape of his foes. His ability is produced by refracting light in various directions. Due to this, he is essentially a demon composed of shadow."