Grenadegun
Talk

0
584pages on
this wiki

I should have been the one to fill your dark soul with liiiiiiiiiiight!
---
This article is a stub and is missing information. You can help Devil May Cry Wiki by expanding it.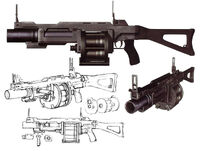 The Grenadegun is a powerful grenade launcher which appears in Devil May Cry. It is found in on the skeleton of a dead soldier[1] during Mission 8: The Legendary Knight Returns, after defeating Phantom.
Description
Edit
The Grenadegun's design is derived from modern "revolver launchers", such as the Penn Arms TL-8, which utilize a revolver-style system to fire either 37mm or 40mm grenades. It fires slowly, but is very powerful.
It fires exploding shells of shrapnel,[2] and each shot will nearly recharge a full Devil Trigger rune. It can only be fired from the ground, and has a slow reload speed. Rolling after firing a shot exploits a glitch that causes Dante not to reload, hence the player can "spam" shots quicker.
References
Edit
↑ Devil May Cry "It's the corpse of a soldier who must have wandered into the castle and died of exhaustion. He's holding something."
↑ Devil May Cry, Guns — Grenadegun: "Fires exploding shells of shrapnel. Extremely destructive."