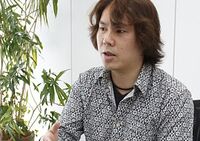 Hiroyuki Kobayashi is a Japanese video game producer. He has worked on and produced several successful titles for Capcom after joining them in 1995.[1]
Role in Devil May CryEdit
Kobayashi was involved with the first Devil May Cry as a programmer. He then went on to help produce Devil May Cry: The Animated Series[2] and direct and produce Devil May Cry 4. He also wrote episode 2, "Highway Star" of Devil May Cry: TAS[3].
Other Titles
Edit
Kobayashi has directed several blockbuster games for Capcom, including various titles of the Resident Evil and Sengoku Basara franchises. He also assisted with the production of Resident Evil: Degeneration.
References
Edit