I should have been the one to fill your dark soul with liiiiiiiiiiight!
---
This article is a stub and is missing information. You can help Devil May Cry Wiki by expanding it.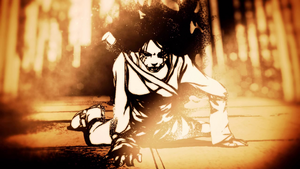 Hollow Kat is a character in Vergil's Downfall.
After revealing that Vergil has three holes in his heart, Hollow Vergil sends him to a hellish facsimile of Limbo City, where he finds "Kat" being chased by an Imprisoner. He manages to dispatch the demon just after it corners her, but "Kat" reveals herself to be a demon and mocks Vergil, telling him she chose Dante over him. In a rage, he kills her and is told by Hollow Vergil that he has filled a hole in his heart.
Ad blocker interference detected!
Wikia is a free-to-use site that makes money from advertising. We have a modified experience for viewers using ad blockers

Wikia is not accessible if you've made further modifications. Remove the custom ad blocker rule(s) and the page will load as expected.