Ad blocker interference detected!
Wikia is a free-to-use site that makes money from advertising. We have a modified experience for viewers using ad blockers

Wikia is not accessible if you've made further modifications. Remove the custom ad blocker rule(s) and the page will load as expected.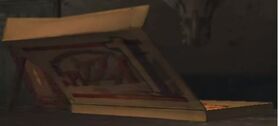 Pizza1 was the pizza restaurant that Dante went to in Devil May Cry 3. The logo appears on the pizza box that Dante had in Devil may Cry 3 just before he comes out of the shower. Also this restaurant may not be the only restaurant that Dante gets his pizzas, but the name can be surely noticed on his desk and that this was one of the pizzerias, if he had any other places to get it.
Description
Edit
Even though the restaurant itself might not be the same restaurant that appears in the entire series, including the animated series. However, this is surely a pizzeria that he went to to get his pizza delivered to his office. It is also unknown if he got the pizza to-go or had it delivered just before the player was able to watch the second cut scene in Devil May Cry 3.
The logo of the restaurant can be seen on the pizza box. It appears as the name Pizza with the letters all arranged in zig-zagged formation and a number 1 ending the word pizza to Pizza1 and the number 1 is bigger than the letters and is slate grey colored. Also there are a few words around Pizza1 that say paid pizza and downloads which may have been the reason why Dante chose this pizzaria in the first place. Also, why it is hard to tell if Dante goes to other pizzarias other than Pizza1 is that in Devil May Cry 4 a pizza box only says Pizza and in the animated series, there is no box that has a pizzarias name on it.