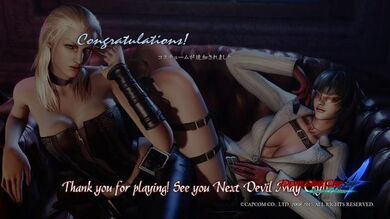 Devil May Cry 4: Special Edition
is the latest game from CAPCOM that improves it's gameplay and it's content. It also features numerous modes and introducing new playable and returning characters in this game.
And for those who were itching for the next (legal, not the rebooted one) installment of Devil May Cry. Well, you might take a look at the "Heaven and Hell" Mode once you finish the game.
According to the attackonfanboy.com and HyperBitHero's Twitter. There's a message that CAPCOM gave thanks for those who were playing Devil May Cry 4: Special Edition, which is a little bit flattering because somehow you manage to defeat everything after hard times of restarting and dying and finishing every single difficulty. But, here's a catch. After that "Thank you" message, there's another word that really makes us motivate. It says; "See you Next Devil May Cry!".
So, I guess after a long time, Devil May Cry is still not yet dead after all. And according to some, there are rumors that Nero will return for the next installment.
By the way, when will the next DmC: Devil May Cry sequel to be announced?
Ad blocker interference detected!
Wikia is a free-to-use site that makes money from advertising. We have a modified experience for viewers using ad blockers

Wikia is not accessible if you've made further modifications. Remove the custom ad blocker rule(s) and the page will load as expected.