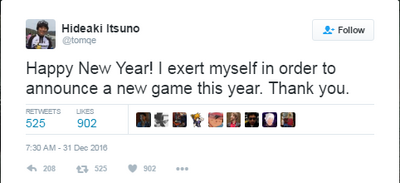 Happy 2017 Everyone!
Well, besides of other new games that was already been announced last year that is going to be release at the following months this year. There's no news whether there's new game for our beloved series. Until the very last day of December, Hideaki Itsuno--director of Rival Schools, Power Stone and Devil May Cry--just announced on his twitter that he's going to announce a new game.
Although, it never explain what kind of game is it--either a new IP or a sequel to the three games that I've mentioned above--is up for speculation.
But, despite of this announcement, a lot of fans we're seeking for Devil May Cry 5 (not to be confused by the rebooted one). Including Hideki Kamiya--original director of the very first Devil May Cry--himself as he seeks to work together with CAPCOM to do a "one awesome game".